Welcome
Peace Lutheran Church
The church that welcomes and serves
Sunday Worship at Peace Lutheran Church:
Live stream Worship on Facebook Live Sundays at 11 a.m., posted afterward on the church Facebook page and YouTube channel, with worship links and faith resources below.
Online Worship Services
January 17 – Bulletin and Announcements – Second Sunday after Epiphany and Justice and Reconciliation Sunday
January 10 – Worship Video – Baptism of Our Lord – First Sunday after Epiphany – Psalm 51:6-17; Luke 3:1-22
See Worship Services on YouTube for previous videos.
Children's and Youth Faith Resources
Godly Play videos on YouTube
At-home faith resources
Coronavirus
Read Peace Lutheran Church's response to coronavirus and find resources for hope and spiritual growth on our publications page.
We believe God's vision for Peace is to be a diverse community of faith in the Hilltop where all are welcome: a community that is Spirit-filled, Compassionate, Healthy, Reconciled, and Just.

Sunday Schedule
9:30 a.m. – Online Education Hour
11:00 a.m. – Online Worship
Contact Pastor John for more information: pastorjohn@peacetacoma.org

Children & Youth Programs
See online faith resources for children's and youth ministry
Godly Play Videos:
Elementary School
Sunday online at 9:30 a.m.
Feet to Faith: 7th–8th grade confirmation class
Explorers: 5th-6th grade class
Wednesday online at 5 p.m.
Change Makers: High School
Contact Brendan Nelson for more information: brendan@peacetacoma.org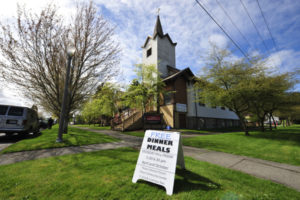 Church Resources
All are welcome at Peace! We are a diverse community of welcome for people of all ethnic and cultural heritages, ages and generations, educational and financial backgrounds, gender identities and sexual orientations, spiritual and religious preferences, gifts and abilities! Centered in Jesus and his love, we believe that every human being is created in the image of God, whose Spirit gathers us into one community of faith in our Hilltop neighborhood. You are a blessing to Peace! We welcome your presence, your gifts, your service, your leadership, and our shared life together in community!
KEEP IN TOUCH
2106 South Cushman Ave.
Tacoma, WA 98405
Phone: (253) 383-1317
Fax: (253) 722-2228
Email: plcadmin@peacetacoma.org
FOLLOW US!
Site design by KH Creative